Advantages and Disadvantages of Direct Mail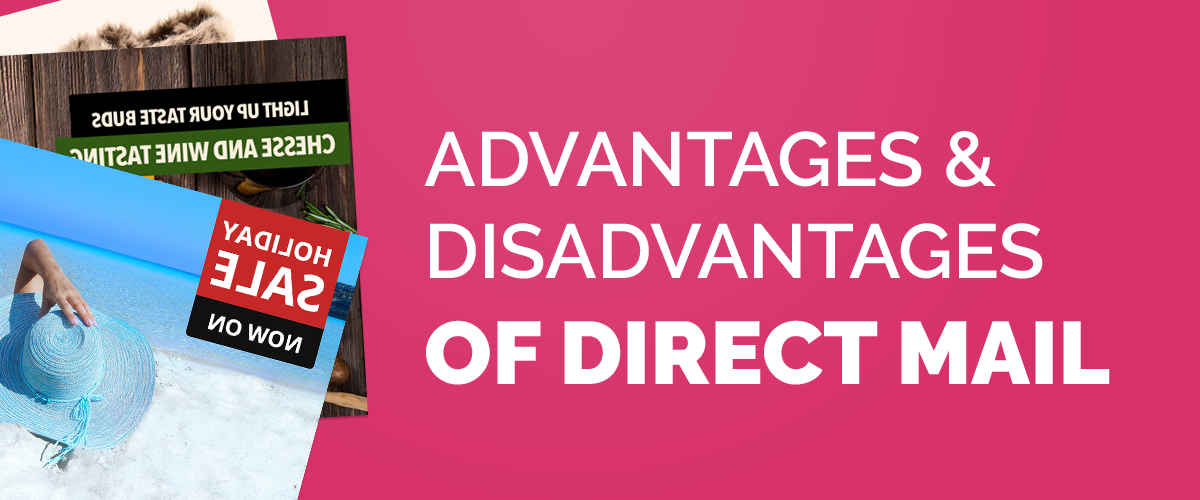 Here is a list of all the major benefits and disadvantages of direct mail marketing and postcard marketing in modern times.
Advantages
1. Brand Retention
Direct Mail is one of the few marketing channels which engage all the senses, as you can touch and feel it. Because of this direct mail is over 5x more likely to be remembered compared to digital channels.
Research strongly suggests that consumers trust brands from direct mail much more than digital ads.
2. Response Rates vs Email
The average response rate of a direct mail campaign is between 2.7 – 4.4%. This dwarfs email response rates, so if you want to maximise the responses from your contacts direct mail is little known opportunity compared to email which has 0.12% response.
3. Household reach
The average piece of mail is kept in the household for 17 days. It is shared on average with members of the household 23% of the time and can also be shared on social media when done right.
4. Open rates are through the roof
82% of mail is opened, and 47% of direct mail is read or scanned. Because the competition for attention in the letterbox is currently so low, direct mail has incredibly high open and read rates compared with most digital channels.
5. Insane Impact
Direct mail is much more visual and physical, giving you much more freedom for creativity. See this list of some of the most creative direct mail campaigns to see how direct mail can instil emotion and impact in your audience.
6. Personalisation
Direct mail can be personalised so your promotion speaks directly to the contact. For example if using postary to send postcard marketing campaigns you can easily include dynamic text to include first name, or other personal information on the design and text of a card.
7. Highly Targeted
Because direct mail is direct, it can be highly targeted to existing customers, leads prospective customers. Although mailing lists can be bought and sold, using direct mail for on-boarding, re-targeting, and building loyalty are extremely effective.
8. GDPR friendly
Unlike email you don't need explicit consent to send direct mail to your customers. You can often rely on legitimate interest. For more information on this see this article on how to send direct mail in a GDPR compliment way without requiring explicit consent.
Disadvantages
1. Cost
Direct mail has fixed costs as it needs to be sent through the postal system. You must also design the mail piece which may have an additional cost. You will need to work out the ROI (return on investment) to see how viable direct mail is for you.
Using a service like postary to send direct mail means there is no minimum order size, and you can either use the built in design templates, design your own, or request a custom hand crafted bespoke design.
2. Traditionally Time consuming
Depending if you use a traditional agency or a service like postary this isn't so true anymore. But a consideration if you want to send out a very bespoke type of direct mail.
3. Not-instantanious
Mail isn't delivered instantly, so depending on your requirements it may not be suitable for some types of campaign.
4. Requires Address data
It helps to be able to source the addresses of your contacts. Depending on your unique business this may not be possible to obtain.