Predicting Marketing Trends – First Mover Advantage 2019
There is a little known secret that people like Gary Vaynerchuk often allude to, but it's never really discussed publicly.
As I'll show you, it's the reason why companies including eBay, Amazon, Hubspot, Buffer and Nike in their early growth days had been able to grow their business to such heights.
I think entrepreneurs and marketers can learn a lot from this.
A lesson from history – Why predicting marketing trends yields explosive growth
First look back to 2004, insurance keywords on google ads cost 20p per click. Today you'll be spending £30+. That's a 150x increase. And companies like Ebay and Amazon were able to grow their business to such heights, simply because the cost of the advertising was cheap, so their return on investment was insanely high.
The reason is simple – as more businesses learned how to use PPC effectively, it became more competitive for keywords, and therefore the price was driven up. This is economics 101, but those who took advantage of it became the titans of the next decade. Achieving the same ROI today for paid search is impossible.
Now look back to 2012. Influencer marketing was in its early days. You could reach 1 million people with a tiny budget and people's trust in influencers was much higher than today. That's because no one was aware that they were being advertised to. Fast forward to today and you will typically spend 13x as much for similar results.
The same story is true for TV ads back in the 70s. The companies that were able to make TV ads work first, could reap all the benefits. Nike, Pepis, see for yourself.
You already know by now this happened with facebook, and every other social media platform.
When media is less competitive, consumers aren't saturated with ads. Which creates the holy grail in marketing. Low cost combined with a more engaged audience.
How to predict the next under-priced marketing opportunity?
The natural question to ask is, what is the next cheap media? A lot of people will think to jump on the next social platform that comes along. The problem with this is that everyone thinks the same, and by the time you figure out how to use it really effectively, so have your competitors.
Here is how we identify the next opportunities. Take a look at the graph below. The first graph shows the number people who own email accounts, and the number of spam emails people receive. Today most people don't read most of their emails, but during the time before spam became popular, your emails were near guaranteed to be read with everyone's full attention.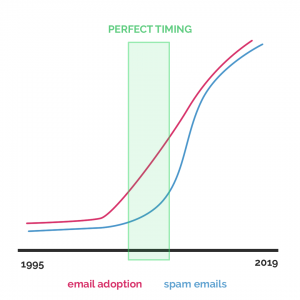 Ever seen wolf of wall street? The over the phone, confidence trick scams that Jordon Belfort used to trick investors out of millions, worked well for him in the 90's, but this scam doesn't work today because people are inundated with calls, and back then a call was special, and phone scams were unknown.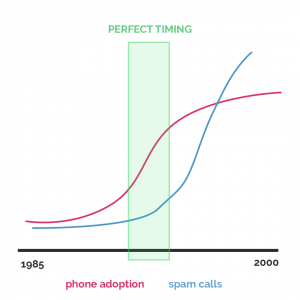 Look at email, the same thing again. In the early days receiving an email was special, you would open it, chain-mail (for those who remember) was an effective way to go viral. Today most people have over 1k unread emails in their inbox.
What is the next undervalued media channel?
Now this is where it really gets interesting, and is what I believe to be the key to the next marketing golden age that we saw with every other media channel. Take a look at the graph below: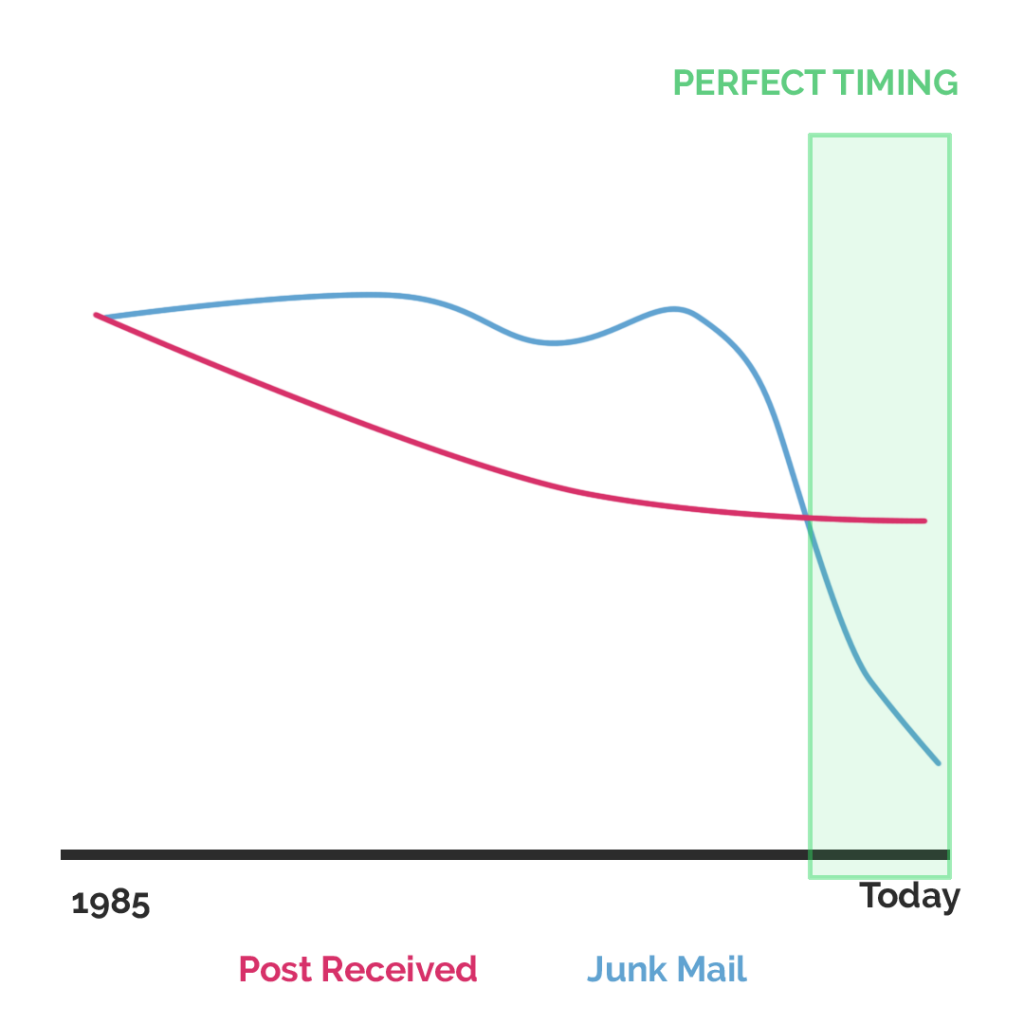 20+ years ago people will remember how much spam post they received in their post box, it was saturated, and therefore became less effective and more expensive for companies to stand out. (As you would need to send more mail to get noticed).
Here is where there is an interesting trend, because of the growth in digital channels, from email to social. Sending physical post, has become a relic of history. People don't receive much physical post anymore. The number of young people today who would be delighted by receiving post from a company is 4.5x what it was for the previous generation. And here is the thing, this is for generic mail.
Direct mail isn't the cheapest channel to reach your audience, but the return on investment is higher when executed correctly.
Now imagine if today in 2019, you receive some post, with your name and a message personalised directly to you, for a product you were thinking of buying (See here for examples). If you do this today, you will be the only company doing this for your customers, and the results are mind blowing. There is a reason why today google and amazon are now two of the biggest spenders on direct mail. Because they understand the economics of media buying.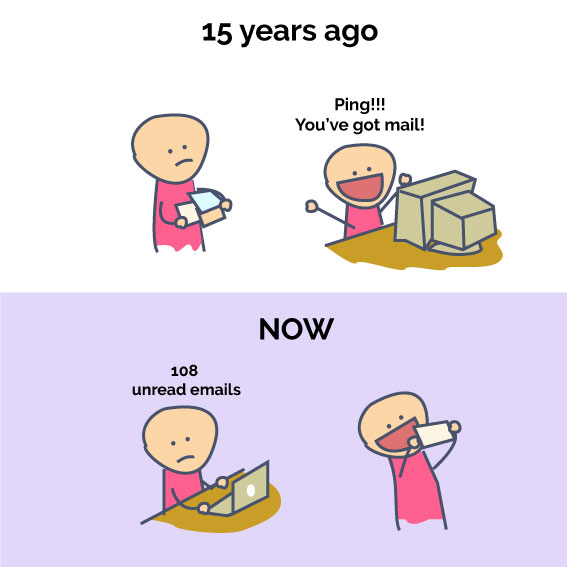 Just like all the other channels, over time more businesses will realise how powerful physical post is, and how to use it effectively. This will lead to more people receiving post, and over time they will become less responsive. But for the near future it will be the most explosive opportunity in marketing.
See my guide on how to send effective direct mail here.
(Back in 2005 this blog post would be more effective in getting you to reach out to me), but despite that, fire me an email to theo@postary.com if you want to get help with direct mail.
I believe in this strongly, which is why I've dedicated my time to building postary, a platform that makes it extremely easy to send highly personalised post to your customers. Where you can track and measure the performance of your campaigns.
Reach out to me, at theo@postary.com. Or sign up to postary, I'd love to talk to you.